Posted on: July 1, 2015
From: HouseLogic.com By: Deirdre Sullivan
No doubt, exterior upgrades like adding a wood deck or installing new garage door offer great return on investment that's worth the cash outlay. But these four blogger projects will ratchet up your curb appeal for a lot less money. And your friends will think you hired a pro.
A Champagne Fence on a Beer Budget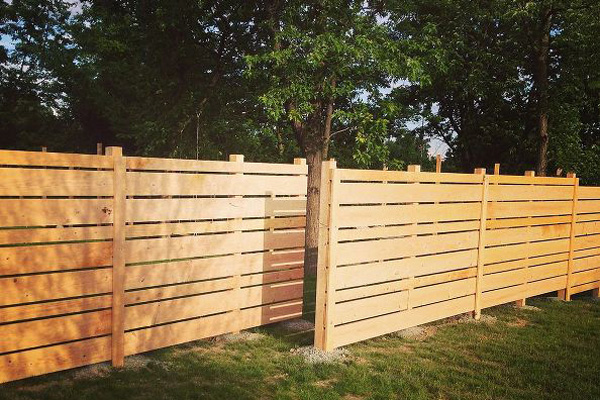 Image: The Unique Nest
Laura, the blogger behind The Unique Nest, wouldn't let her limited funds put a damper on her curb appeal vision. Her DIY fence enclosed a 1/4-acre side yard for only $1,000.
Not only is it beautiful, it's functional: It keeps her kids and dog safely in the yard and adds privacy and value.
She and her hubby:
Sketched out their design to calculate how much lumber they needed. The project required around 250 pieces of rough-cut Hemlock wood.
Contacted Dig New York, a nonprofit that marked underground utility cables and pipes on the property, so they could dig safely.
Rented an auger — essentially a giant drill — to dig holes. Their project required 29 fence posts. The rental made the four-day building process a lot easier.
Tip: If you have a wood fence, apply stain or wood preservative every three to five years to protect it from bugs, rot, and sun damage.
The Landscaping Power of a Little Concrete Edging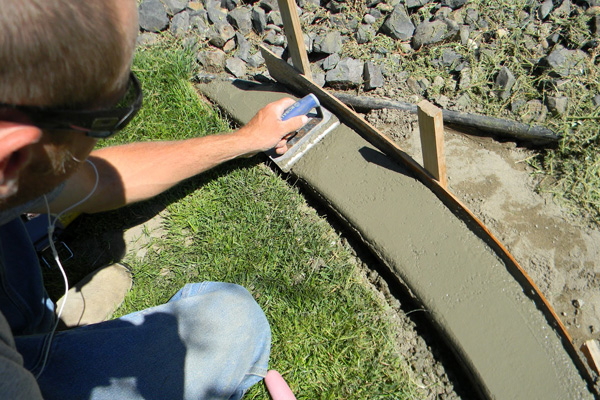 Image: Home is Where They Love You
Besides adding spit and polish to your landscape, edging can help keep weeds and grass from overrunning your garden.
Camie, from the blog Home is Where They Love You, thinks her decorative and functional concrete curb looks like a pro job, and we agree. Even better, she created it for less than $20.
In a nutshell, she and her husband:
Crisply defined the garden's border while also creating the curb's form using bender board and wood stakes.
Poured the concrete into the form.
Used an edging trowel to smooth out the curb's shape.
A Driveway That Just Looks Expensive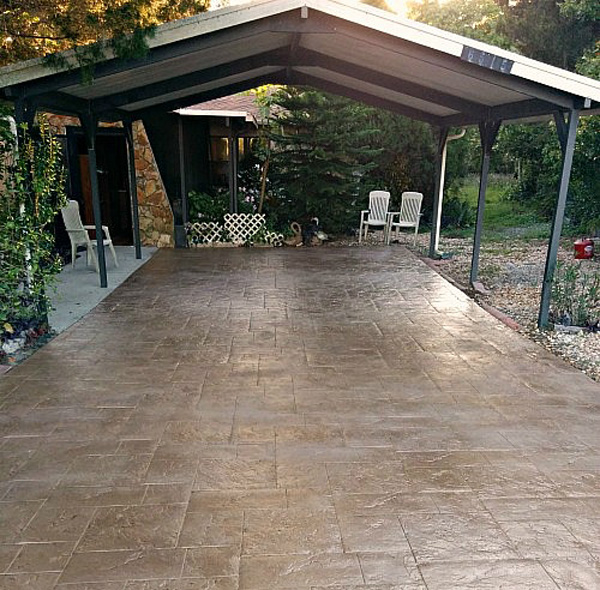 Image: DIY Fun Ideas
When Jenise from DIY Fun Ideas created this tile driveway at her mom and pop's place, she became a serious contender for world's best daughter.
But, here's a secret: She says this concrete project is so easy that even a DIY novice can build it.
Here's quick breakdown of the project's three basic steps.
1.  Mix mortar in a bucket.
2.  Spread the mortar into a tile mold.
3.  Place the freshly minted tile into place on the driveway.
And get this: A pro might charge $10 per square foot to build a driveway like this one; Jenise's project cost about $3 per square foot.
A Garden Tool Organizer to Love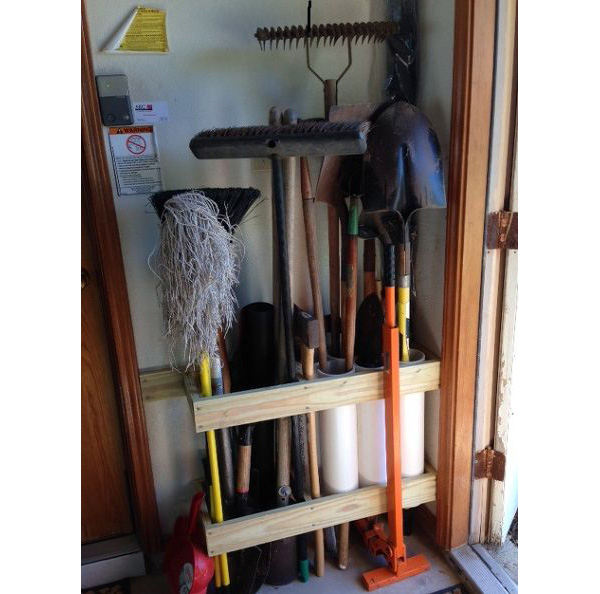 Image: Ouina, HomeTalk.com contributor, Edinburg, Texas
Love to putter around in your garden, but hate trying to retrieve yard tools from a disorganized jumble in your garage?
Ouina, an avid tipster to the HomeTalk.com online community, concocted a clever built-in that keeps rakes, spades, trowels, and pruners neatly grouped in a garage or shed corner.
She:
Created the built-in using precut lumber and PVC pipe.
Attached the lumber used to create the wood frame to the wall studs.
Mounted PVC pipe onto the wood frame to keep it off the floor. This makes cleaning up around the built-in easier.
---
Posted on: June 17, 2015
Here is a great little article we found on ApartmentTherapy.com of ways to increase your curb appeal with some fun DIY projects. Enjoy!
On Apartment Therapy we spend most of our time on interiors—to us its what's inside (your home) that really counts—but it can really pay off to give the exterior a little TLC. It's the first thing you see before you step though the door and it can add a lot to your home's value, should you own it yourself. With this in mind, we've rounded up a few DIY projects to give your place a little extra curb appeal.
1. Modern House Number DIY from A Beautiful Mess
2. DIY Wood Shutters from Home Talk
3. How to Make a Tree Bench from This Old House
4. DIY Address Number Wall Planter from Shanty 2 Chic
5. How to Make a Window Box from Two Twenty One
6. DIY Modern Mailbox from Mod Frugal
7. DIY Cedar Planter Box from Shanty 2 Chic
8. DIY Bird Bath Planter from Mami Talks
9. Modern, Space-Saving Vertical Garden DIY from Man Made DIY
10. House Number Plaque DIY, 4 Men 1 Lady
11. Monogram Welcome Mat from Thistlewood Farms
12. DIY Crate Bench from Operation Home Blog
13. DIY Concrete Paver Planters from Life in Velvet
14. DIY Succulent Wreath from Pretty Prudent
15. DIY Slat Screen from The Brick House
---
Posted on: June 3, 2015
Philadelphia, Pa – June 2, 2015 – Elfant Wissahickon Realtors is pleased to announce that, in partnership with Martin Elfant Inc., they have raised $30,000 for Face to Face, a non-profit organization in Germantown that provides "help and hope," to residents of Germantown living in poverty.
From its origins as a soup kitchen in 1985, Face to Face has evolved into a multi-service organization, offering free human services to more than 2,500 low income and homeless individuals each year. In addition to serving meals they provide social and legal services, an arts studio and a summer camp program.
Elfant Wissahickon Realtors, Martin Elfant Inc., and Direct Mortgage Loan Company, raised the money over a 12-month period by collecting and pooling donations from their agents and mortgage and title partners (Freedom Mortgage, Mortgage Master, and First Choice Bank, in addition to Northwest Abstract and Class Abstract).
Each time a house was bought or sold, a space was rented, or a title policy and/or a loan was placed, a donation was made to Face To Face.
The partners of Elfant Wissahickon Realtors and Martin Elfant Inc. matched the $20,000 raised at 50%, for a total of $30,000, which will be given out over three years through Elfant Wissahickon' Realtors' "Building Community Initiative."
Bob Elfant, President and Partner of Elfant Wissahickon Realtors, said "Face To Face works hard to recognize their clients as people, acknowledging their self-worth, notwithstanding their difficult financial circumstances. We did not simply write checks, but are proud to have built a meaningful relationship with the organization in an attempt to extend the impact of our partnership."
Mary Kay Meeks, Executive Director of Face to Face added "The partnership between Elfant Wissahickon and Face to Face is a model for what can happen when businesses truly care about their communities.  The relationships formed between Elfant's agents and Face to Face clients and staff were key to the success of this wonderful venture. This could not have happened without the imagination and generosity of Bob Elfant and his team.  Bob and the executive team all donned aprons along with other clients and served our guests with respect and hospitality.  We are so grateful for this outpouring of financial support and humble service! "
Jared Pontz, Managing Partner of Martin Elfant Inc. and Direct Mortgage Loan Company said "We are pleased to be a part of such a meaningful initiative. The mission of Face to Face is one of importance to our communities. We are especially proud of our ongoing volunteer participation and look forward to continuing the relationship into the future."
Elfant Wissahickon Realtors is the leading independent real estate brokerage in the Philadelphia region, operating two offices in the city with over 80 agents, all dedicated to the highest professional standards and committed to the communities they serve. Visit them at www.ewrhomes.com.
Face to Face is a not-for-profit 501(c)(3) human services organization dedicated to the health, well-being, and stability of our community. Face to Face meets basic human needs and reduces suffering. With hospitality, we provide a safe environment and practical tools, which enable the people of our community to confront personal challenges, empower their lives, and fulfill their unique potential.
#   #   #
---
Posted on: May 28, 2015
Elfant Wissahickon Realtors is proud to announce that it has established a commercial division focusing on new development, investment properties, restaurants, retail sales and leasing, the non-profit sector and manufacturing.
-EXPERIENCE-
Elfant Wissahickon Realtors, the leading independent residential real estate broker in the Philadelphia region, has represented Buyers and Sellers in the purchase or sale of thousands of homes, providing a tailored real estate experience for their each of their clients. Elfant Wissahickon Realtors has also been simultaneously building commercial acumen for decades. Their realtors were instrumental in theses notable
the sale of the Chestnut Hill Hotel and Farmer's Market,
the expansion of Weaver's Way to Chestnut Hill,
the 20 year lease by the Waldorf School of St. Peter's Church in Germantown,
the purchase of manufacturing space by the NYC transplant Vinylux,
the lease of Goat Hollow Restaurant in Mount Airy
James restaurant on South 8th St,
the placement of Capogiro in the Falls Center
the upcoming Guild Hall brew pub in Jenkintown
and the most recent lease of a new space for Fork/High Street Market in NYC.
Each business has unique needs and potential for growth and requires a custom strategy for relocation or expansion. The experience, relationships and insight of Elfant Wissahickon Realtors gives them the ability to help businesses make the right connections.
-NONCONFORMING REAL ESTATE-
"Much of our commercial work falls outside of the spectrum of traditional commercial real estate," explains Christopher Plant, Director of the new division. "And with a lower inventory than you'd find in residential real estate, finding the perfect fit and location involves creativity and a close understanding of the entity's needs and capabilities." Christopher Plant has been central to many high profile transactions and works very closely with local developers and business owners to help them find the right tenants or partners for their needs. Christopher's entrepreneurial insight and project management skills enable him to help his clients understand their goals and make decisions about growing their business. Often, he matches purchasers and tenants with developers and uses his own project management background to ensure successful transitions for the businesses.
"Christopher is incredible at networking with property owners and potential tenants to help owners get what they need to grow their business. He is an asset to anyone looking to get ahead in commercial real estate," says Ken Weinstein of Philly Office Retail. "
"It's important to look at not only the highest and best use for the property, but the best use for the community. Whether that's putting a gelato company in a former hospital, or a hip housewares manufacturer in a warehouse in Germantown, there's a creative element to productive commercial real estate," says Paul Walsh, managing partner of Elfant Wissahickon Realtors and President of the Chestnut Hill Business Assocation. But it isn't just Christopher who sees the increase in commercial opportunity. Many of the agents at Elfant Wissahickon Realtors have expanded their practice to include commercial activity in recent years.
-COMMITMENT-
Elfant Wissahickon Realtors attributes much of the commercial real estate success as representative of the relationship and community building that is occurring in this area. Utilizing a creative and hands-on approach, EWR Commercial seeks to expand and strengthen the local economy by supporting locally owned and operated businesses in making Philadelphia their home and ultimately enhance the unique character that defines our communities. Elfant Wissahickon is exceptionally well suited to support what makes our neighborhoods great: businesses creating vibrant corridors, residents and neighbors as eager consumers of local resources.
For more information about EWR Commercial, please contact Christopher Plant directly.
christopher@elfantwissahickon.com
O/215/247-3600
C/215/740-2339
---
Posted on: May 15, 2015
Elfant Wissahickon Realtors recognizes its professional and successful agents for another record breaking quarter. The following are the company's top producers for January through April, 2015.
The Karrie Gavin Group – Top Producing Team
Shauli David – Top Individual Producer
Multi-Million Dollar Teams:
The Adams Group
The Mary Jo Potts Team
The Philadelphia Moves Team
Million Dollar Producers:
Jim Benincasa
Joanne Colino
Connie Gillespie
John O'Connell
Kristin Stever
---
Posted on: March 30, 2015
Elfant Wissahickon welcomes REALTORS (front L to R) Neil DiFranco, Jenny Sweeny, Marissa Brooks, Jessica Hagen, Leah Strenger, Michael Cohen, (back L to R), Megan Timmons, Patrick Walsh, Michele Peale, Steve Olszewski, and Michelle Carroll, to our sales force of over 80 professionals at our Chestnut Hill and Rittenhouse Square locations.
---
Posted on: March 13, 2015
Wanted to tell you about a fun event coming up on Sunday March 22nd. It's the 5th Annual Chestnut Hill Rotary Chili Cookoff at the Lutheran Seminary in Mt Airy. The event starts at noon and runs til 3 pm. $10 for all the chili you can eat, kids under 5 free. Lots of things for kids to do in addition to eating chili! Chili Teams include McMenamins, Iron Hill, Poquito's, Campbell's, Trolley Car Diner, Weavers Way and more. Hope to see you there. Great food and a great cause!
---