Posted on: July 29, 2015
From: HouseLogic.com By: Lisa Kaplan Gordon
Relax. Here's how to make short work of every common repair annoyance from a leaky toilet to a sticky window.
1. Fix a leaky toilet.
Running toilets not only rob sleep, they waste water and jack up your bill. Here's how to change a flapper — the usual suspect — and solve other likely problems.
2. Repair drywall holes.
The hardest part of drywall repair is making the patch flush with the existing wall. A "pumpkin patch" is an easy repair that cuts down on sanding.
3. Adjust cabinet doors.
Changes in humidity can make cabinet doors rub, refuse to close, or just look cockeyed. Adjusting them is easy and generally requires only a screwdriver.
4. Open a stuck window.
Windows stick when paint, dust, or moisture builds. Use a utility knife (or a pizza cutter) to remove old paint. Be careful not to gouge the wood sash. If high humidity is making windows hard to move, run a humidifier that sucks moisture out of air.
5. Stop a leaking faucet.
A dripping faucet can waste 5 gallons of water per day. If you can't replace the faulty part immediately, tie a string around the faucet and let it fall into the drain: Dripping water will silently flow down the string.
6. Silence door squeaks.
Take the squeak out of doors by lubricating top and bottom hinges with a little WD-40 or white lithium grease. If you don't have any on hand, olive oil is a quick but temporary fix.
7. Turn off the main water line.
Don't wait until water gushes into your house to search for the main water line. When things are calm and dry, locate and practice turning it on and off.
---
Posted on: July 23, 2015
In the beginning of this year, Valley Green Bank merged with Univest Bank and Trust Co. Valley Green Bank had thrived in part due to the close relationship that it established with the neighbors and businesses in Mt. Airy and Chestnut Hill over the years. Valley Green Bank will always be grateful and appreciative for this close relationship and the outpouring of support that it received from these communities.
To honor this history, Valley Green Bank's board and staff decided to give a gift to the community that would commemorate this appreciation and meaningful connection: The restoration of the pergola and arch at the intersection of Cresheim Valley Drive and Germantown Avenue, two historical structures that provide a gateway to the lower part of Chestnut Hill and Mount Airy.
On Tuesday, July 21st, to show their love for the community, Bob Elfant, Janice Manzi, Louise D'Alessandro, and Paul Walsh, all of Elfant Wissahickon Realtors, joined in the effort by taking part in this gigantic planting and general cleanup!
---
Posted on: July 21, 2015
Elfant Wissahickon Realtors recognizes its professional and successful agents for another record breaking quarter. The following are the company's top producers for April through July, 2015.
The Karrie Gavin Group – Top Producing Team
Joanne Colino – Top Individual Producer
Multi-Million Dollar Teams:
The Adams Group
The Kugelman Team
Mary Jo Potts & Associates
The DiFranco Team
The Philadelphia Moves Team
The Schwartz Team
The Gavin Group
The Plant Team
Multi-Million Dollar Producers:
Joanne Colino
Shauli David
Connie Gillespie
John O'Connell
Keith Adams
Mary Jo Potts
Karrie Gavin
Christopher Plant
Million Dollar Producers:
Marissa Brooks
Kelly McShain Tyree
Sean Adams
Neil Kugelman
Kristin Stever
Melinda Coughlin
Janice Manzi
Denise Chapline
Jan LeSuer
Tiffany Wainwright
Wendy Schwartz
Jake Markovitz
---
Posted on: July 13, 2015
From: HouseLogic.com By: John Riha
If you're looking for ways to unplug your children and get them some fresh air, try these engaging outdoor projects. You'll introduce them to a little pride of home ownership while adding some finishing touches that'll ramp up your home's curb appeal.
When making stuff with kids, remember the Keep-It rules:
Keep it safe. Use gloves and safety glasses when necessary.
Keep it simple. They'll come away with a sense of accomplishment if it's a project they can handle easily.
Keep it under an hour. Kids' attention spans are short.
1. Making stepping stones
This classic kids' project never gets old — it's gooey, messy, and arty. You'll make the stones using ready-mix concrete or mortar; a 40-lb. bag makes 3-5 stones. Make your own forms with wood, or use old pans, aluminum cake pans, or anything that'll create a 2-inch-thick stone.
While the concrete is still wet, decorate with beads, tiles, marbles, and polished pebbles. Wait 48 hours until the concrete is dry to remove it from the form.
Cost: A 40-lb. bag of ready-mix mortar is $6.
2. Painting your mailbox
Put a little sizzle in your snail mail when you let your kids paint the mailbox.
Un-mount the box and clean it first. When dry, give it a coat of metal primer, then let your kids' muse take over. Inexpensive craft store stencils help keep designs on track. Take the kids to the store and let them pick out designs. Don't forget to include house numbers.
Cost: Primer, $5; acrylic craft paints, $20-$40 set of 10 colors; plastic stencils, $1-$2 each.
3. Planting a shrub that attracts hummingbirds and butterflies
There's some delayed gratification with this project — the payoff doesn't happen until the critters find the shrub — but the fun factor is high when they do.
Keep the digging to a minimum — one or two plants are plenty. Make a generous hole and have the kids fill it with outdoor potting soil, and put them in charge of watering as the plant roots in. Hold a contest to see who spots the first wildlife visitor.
Nectar-producing shrubs that attract hummingbirds include Hibiscus, flowering quince (Chaenomeles), and Lantana. Butterflies like butterfly bush (Buddleja) and Potentilla.
Cost: $10-$30 per shrub; a bag of potting soil is $9.
4. Building a garden gate arbor
It's easier than it sounds. You'll find simple DIY kits at home improvement centers that you and your team can put together in 1 to 2 hours. If that challenges younger kids' attention span limit, let them wander away for a bit, then call them back when it's done. They'll love carrying the finished arbor to the garden and setting it in the ground.
Cost: $150-$250 for a wooden kit.
5. Adding solar lights
This is one of the easiest projects. Gather up some solar walkway lights — the kind mounted on a stake — and have your kids put them along your sidewalk, paths, and at the edge of garden beds. When the sun goes down, they'll get a kick out of seeing the lights switch on.
Cost: Outdoor lighting comes in all styles and prices, but you'll find an 8-pack of solar stake lights under $50 at your home improvement center.
6. Stacking a tipsy-pot plant tower
Here's a great optical illusion that kids will really dig. Stick a ½-inch diameter wooden dowel or piece of copper pipe firmly into the ground or a big pot. Put clay pots of various sizes onto the pipe, threading the pipe through the drain holes. Fill the pots with soil and tilt them at crazy angles — the rod holds all the pots upright. Plant easy-care impatiens or petunias.
Cost: Copper pipe is about $3 per foot; an 8-inch-high clay pot is $4.
---
Posted on: July 1, 2015
From: HouseLogic.com By: Deirdre Sullivan
No doubt, exterior upgrades like adding a wood deck or installing new garage door offer great return on investment that's worth the cash outlay. But these four blogger projects will ratchet up your curb appeal for a lot less money. And your friends will think you hired a pro.
A Champagne Fence on a Beer Budget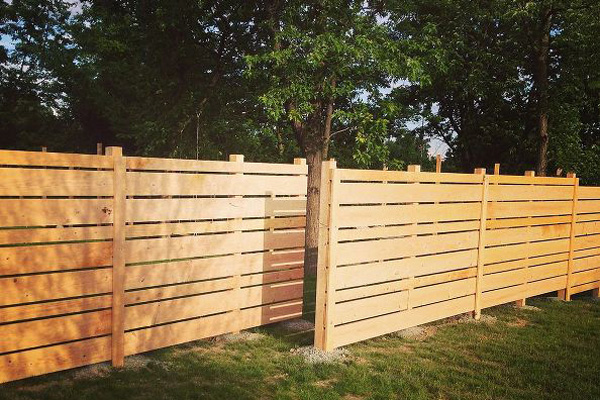 Image: The Unique Nest
Laura, the blogger behind The Unique Nest, wouldn't let her limited funds put a damper on her curb appeal vision. Her DIY fence enclosed a 1/4-acre side yard for only $1,000.
Not only is it beautiful, it's functional: It keeps her kids and dog safely in the yard and adds privacy and value.
She and her hubby:
Sketched out their design to calculate how much lumber they needed. The project required around 250 pieces of rough-cut Hemlock wood.
Contacted Dig New York, a nonprofit that marked underground utility cables and pipes on the property, so they could dig safely.
Rented an auger — essentially a giant drill — to dig holes. Their project required 29 fence posts. The rental made the four-day building process a lot easier.
Tip: If you have a wood fence, apply stain or wood preservative every three to five years to protect it from bugs, rot, and sun damage.
The Landscaping Power of a Little Concrete Edging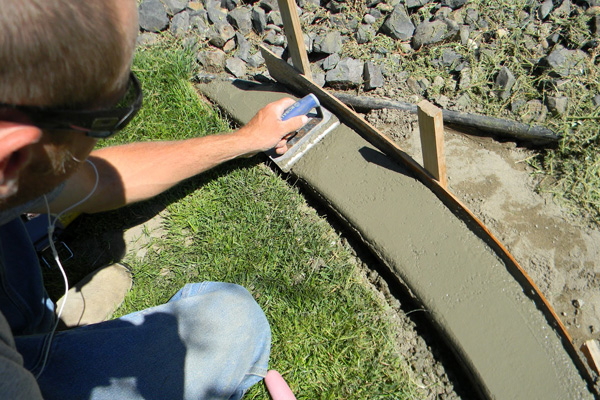 Image: Home is Where They Love You
Besides adding spit and polish to your landscape, edging can help keep weeds and grass from overrunning your garden.
Camie, from the blog Home is Where They Love You, thinks her decorative and functional concrete curb looks like a pro job, and we agree. Even better, she created it for less than $20.
In a nutshell, she and her husband:
Crisply defined the garden's border while also creating the curb's form using bender board and wood stakes.
Poured the concrete into the form.
Used an edging trowel to smooth out the curb's shape.
A Driveway That Just Looks Expensive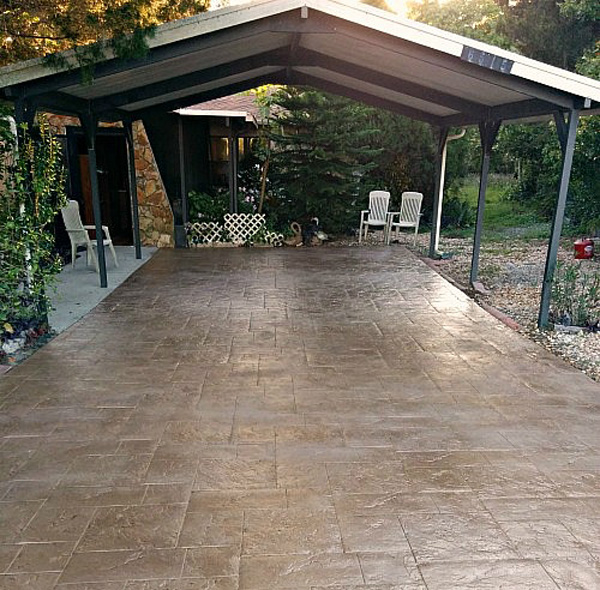 Image: DIY Fun Ideas
When Jenise from DIY Fun Ideas created this tile driveway at her mom and pop's place, she became a serious contender for world's best daughter.
But, here's a secret: She says this concrete project is so easy that even a DIY novice can build it.
Here's quick breakdown of the project's three basic steps.
1.  Mix mortar in a bucket.
2.  Spread the mortar into a tile mold.
3.  Place the freshly minted tile into place on the driveway.
And get this: A pro might charge $10 per square foot to build a driveway like this one; Jenise's project cost about $3 per square foot.
A Garden Tool Organizer to Love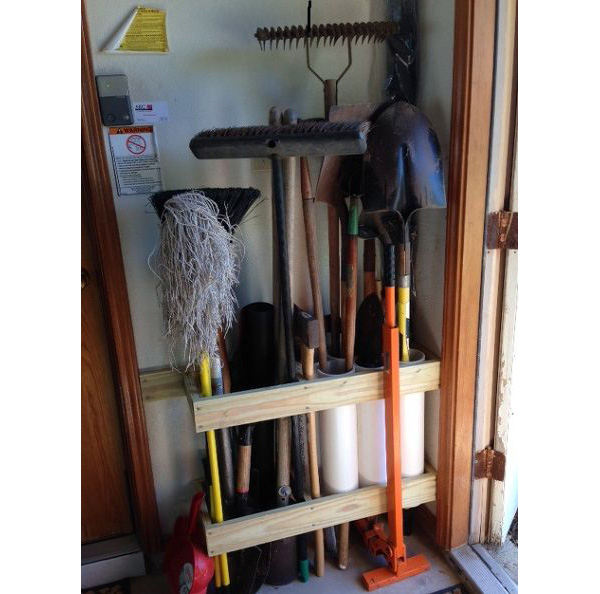 Image: Ouina, HomeTalk.com contributor, Edinburg, Texas
Love to putter around in your garden, but hate trying to retrieve yard tools from a disorganized jumble in your garage?
Ouina, an avid tipster to the HomeTalk.com online community, concocted a clever built-in that keeps rakes, spades, trowels, and pruners neatly grouped in a garage or shed corner.
She:
Created the built-in using precut lumber and PVC pipe.
Attached the lumber used to create the wood frame to the wall studs.
Mounted PVC pipe onto the wood frame to keep it off the floor. This makes cleaning up around the built-in easier.
---